Another left over recipe which was oh so yummy! I adapted the amazing recipe from
Dinner Diary
and I have no doubt with fresh beef that also works wonderfully.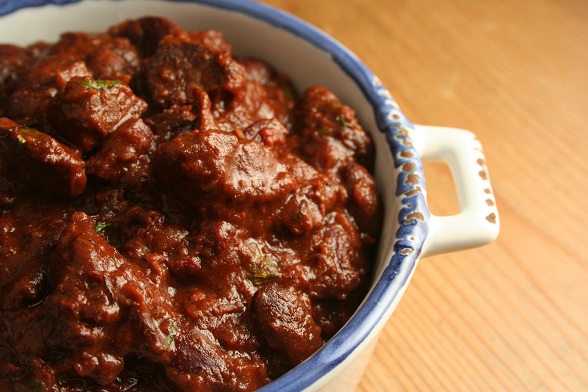 Chilli Con Carne
Serves Four
4 tbsp olive oil
1 tsp of dried chilli
4 garlic cloves, roasted and smashed
1 red/orange/yellow pepper, charred and then finely chopped
Spice Mix
2 tsp ground cumin
2 tsp ground coriander
5 black peppercorns
1 clove
1 tbs franks red hot sauce
2 tsps ground cinnamon
1 tsp smoked paprika
1 tsp lawrys seasoning salt
2 tbsp tomato purée (or left over tomato sauce)
500g red kidney beans
1 bowl of diced leftover roast beef
1 large onion, finely chopped
Bay leaf
250ml red wine
300ml beef stock (plus more boiling water as the sauce cooks, if required)
400g left over tomato sauce or chopped tomatoes
Worcestershire sauce (about a tablespoon)
1 tsp cocoa powder
To Serve
Juice of half a lime
Handful of chopped coriander
Directions
Roast the garlic in the over for about 20 minutes, on 190 degrees, before leaving to cool down.
Blacken the pepper on top of the hob (if you have a gas hob, otherwise roast in the oven) and then transfer to a plastic bag to steam for a few minutes. Remove from the bag, skin, deseed and then chop finely.
At the same time, toast the coriander and cumin in a frying pan on a low heat, for about 10 minutes. Once cooled, grind them up with some black pepper and a clove and transfer to a bowl, add the other powdered spices.
While both these things are happening, open, rinse and put aside until later on.
In a large pan, brown the seasoned meat, add some more oil and soften the onions for about five to 10 minutes. Then add the pulped garlic and dried chilli, the bay leaf and the diced pepper and cook for another five minutes.
Add the powdered spices and cook for a couple of minutes. Add 2 tbs of thick tomato sauce and cook for two minutes. Return the meat to the pan and combine with the spice paste. Deglaze with the wine, then follow with the stock, tomatoes, a dash of Worcestershire sauce and more seasoning. Bring to the boil, reduce the heat and simmer for aprox 20min, checking there is enough liquid as you go along.
After 20min add the beans and cook for a further 20min. Just before the end of the cooking time, add the cocoa powder and cook for another five minutes. Serve with a squeeze of lime and a handful of chopped coriander stirred through.